The Ministry of Food and Drug Safety (MFDS) is taking aggressive action against Kolon Pharmaceutical's recent illegal distribution of flu medicine Comiflu (oseltamivir phosphate) to a daycare via a donation group without a doctor's prescription.
The ministry is probing Kolon and the entire pharmaceutical industry to identify any illegal donations of medicines.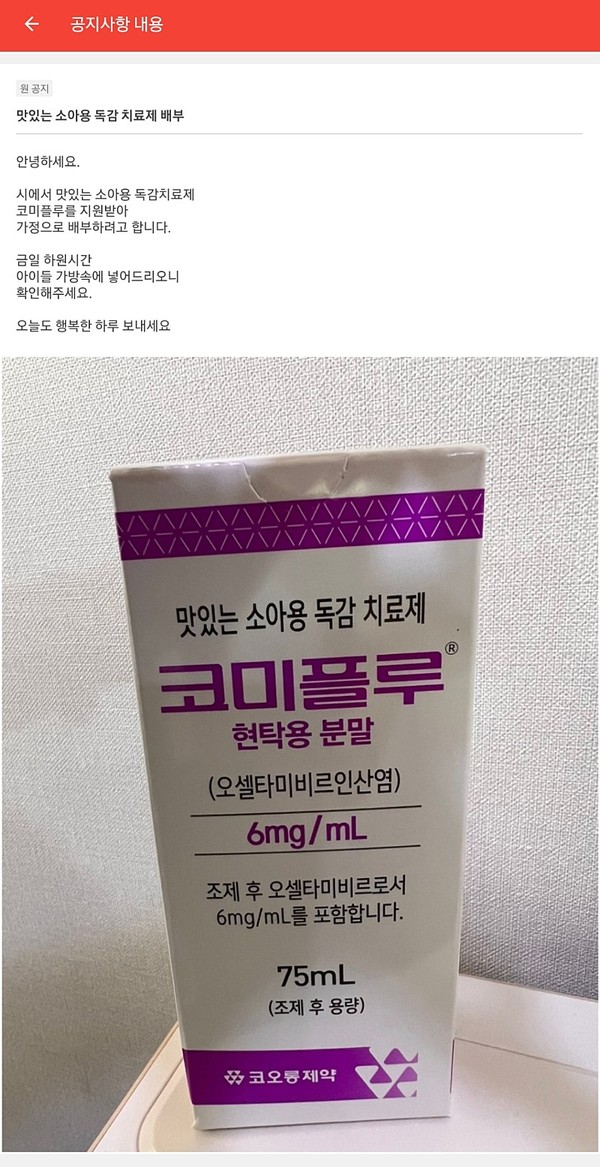 Industry sources said on Thursday that the MFDS recently inspected Kolon Pharmaceutical, the manufacturer of Comiflu, due to the illicit distribution of Comiflu to a nursery school in Jecheon, North Chungcheong Province.
"We conducted an on-site investigation on the distribution and retrieval of the product and requested data from the Korea Pharmaceutical and Bio-Pharma Manufacturers Association on the overall donation status of pharmaceutical companies," an official at the MFDS said.
The MFDS also started probing Korea Love Sharing Community that received a Comiflu donation from Kolon. The donation group is accused of distributing the prescription drug to a local government and an educational institution, not to medical institutions.
Many Korean pharmaceutical companies donate medicines to Korea Love Sharing Community.
Korea Love Sharing Community said the MFDS recently inspected the community through Seoul Jung-gu Office. Jecheon City is also to present its opinions on the latest case to the MFDS, the community said.
"We delivered the drug we had received from Kolon Pharmaceutical to Jecheon Social Welfare Center. Unfortunately, the drug went into the daycare during this process, and the problem occurred. We sincerely cooperate with the authorities' investigation," Korea Love Sharing Community said.
According to the Korea Pharmaceutical Association (KPA), Kolon's Comiflu went from Korea Love Sharing Community to Jecheon's welfare center, the daycare directors' council, and the nursery school.
The MFDS, Kolon Pharmaceutical, and Korea Love Sharing Community are expected to argue how the prescription drug was delivered to a private facility and whether it was legal to donate it.
The MFDS had earlier said it would instruct the local government to investigate whether Kolon's drug donation was permitted under the Pharmaceutical Affairs Act. The ministry also hinted at suing the Korean Love Sharing Community.
Kolon Pharmaceutical said the drug donation was legitimate, and the drug was distributed to the unappropriated place from the donation group, not the company.
"Our company complied with all the regulations on drug donation," an official at Kolon Pharmaceutical said. "The company is frustrated because the donation, which was irreverent to the company's sales and done out of a good intention, caused a social controversy."
http://www.koreabiomed.com/news/articleView.html?idxno=13763