In a Q&A with HealthLeaders, Jessica Beegle, senior vice president and chief innovation officer for LifePoint Health, explains how new ideas and strategies are integrated across the private health system spanning some 30 states and roughly 90 community, rehabilitation, and behavioral health hospitals.
Healthcare organizations address innovation in different ways, and with different management structures. At LifePoint Health, a Brentwood, Tennessee-based private healthcare network operating 63 community hospital campuses, 30 rehabilitation and behavioral health hospitals, and more than 170 additional sites of care in 30 states, it's managed by Jessica Beegle, senior vice president and chief innovation officer.
As part of a continuing series, HealthLeaders is talking with executives at health systems around the country about how they define, manage, and plan healthcare innovation. Here's our conversation with Beegle on how she sees her job, and how it's so much more than "making widgets."
Q. How do you define innovation in healthcare?
JB: Innovation in healthcare is about seeking to solve challenges – access, cost, quality, efficiency, staff burnout – in new ways. 
Q. Can you give an example of an innovative technology you're now testing or using? How about an innovative strategy?
JB: Extending our ability to care for patients outside of traditional care settings and being able to engage with them where, when, and how they want to connect is a foundation of our strategy. With this in mind, one of the most exciting areas where we are expanding our work right now is remote patient monitoring. We've been working closely with Cadence on remote care for those with heart failure, and this work has underscored just how much remote monitoring and support can improve experiences and outcomes for patients and their families.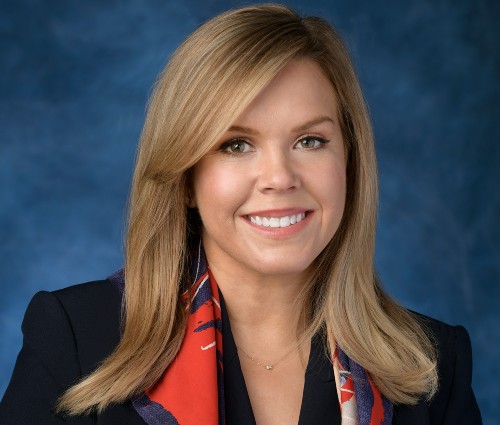 Jessica Beegle, senior vice president and chief innovation officer for LifePoint Health. Photo courtesy LifePoint Health.
While we have many more opportunities to support our patients outside the four walls of our hospitals and clinics in different ways, extending our reach into homes and the community, we are also very focused on supporting our nurses and physicians by bringing in tools that can remove the undifferentiated heavy lifting of some of their current tasks, in an effort to make their jobs easier. We will be announcing a new partnership along these lines in the months ahead.
Q. How should a health system integrate innovation into its mission?
JB: Every health system is unique, and every organization has to determine how and when innovation fits into its strategic plans. At LifePoint, the leadership team has made innovation one of our strategic priorities, along with things like quality and safety and talent development. Having the buy-in and strong support of company leadership from an innovation perspective is critical to our ability to try new things and freely explore opportunities that can help solve pain points for our people. We are focused on evaluating and implementing cutting-edge ideas, partnerships, and technologies that meet patient needs, drive growth, and advance our mission of making communities healthier.
As part of this effort, we created what we call LifePoint Forward, which represents our approach to cultivating ideas and investing in technology-enabled solutions to improve quality, access, and outcomes while lowering costs. Through LifePoint Forward, we are partnering with organizations that are positively disrupting the healthcare ecosystem, building companies and solutions to address new opportunities and areas of unmet market need, and buying capabilities we believe will add value to our organization, the communities we serve, and the broader healthcare system.
Q. Where do you look for innovative ideas or technologies?
JB: We take an 'outside-in and inside-out' mindset to how we approach innovation. I want to make sure that our work and the solutions we bring in or build are focused on the real, on-the-ground needs of our employees who are on the front lines working with patients. It is important for us to seek their feedback and input on what is needed within our system to help them do their jobs every day and help us collectively provide even better care and then look for technologies and solutions to address those needs.
Coupling the perspective from our people in the field with key technology leaders and investors in the market, we closely survey the best-in-class solutions available and assess whether to bring in a current technology/solution or whether there is a gap we may need to build a solution for ourselves. We are fortunate to have our joint venture, 25m Health, an in-house health tech venture studio, to build new companies that are focused on developing new technologies that may be needed within LifePoint communities and beyond.
Q. How do you get buy-in from the administration and staff for a new product or strategy?
JB: First, communication and trust are key. Every discussion I have underscores that our focus is on creating solutions that solve real, everyday problems, and why we believe a particular innovation will realistically solve an issue our teams are facing.
Innovation can be very aspirational at times. I'm the biggest fan of emerging technology and the 'art of the possible' conversations, but I try to balance my own personal excitement with the realities of innovating in healthcare. It's hard and complicated, but with proper grounding we are making good strides to bring new innovations into our markets to positively impact our patients and staff.
We are regularly pitched by some of the smartest entrepreneurs out there, but often they are too focused on being 100 times better than the existing solutions. I coach a lot of entrepreneurs on balancing the 'art of the possible' of what their technology can do with tempering their pitch to show how they can meet their customers where they are today. This helps set the stage for traditional healthcare companies and new entrants to work well together.
We've built trust by listening to our teams in the field, and we maintain it by being as transparent as we can about what challenge a particular innovation is addressing – and what the adoption and implementation of this innovation will really look like. Setting proper expectations up front helps to bring internal and external stakeholders along.
We also have set clear areas of focus to help everyone understand what we are working toward. These include:
Operational Efficiency & Employee Experience: easing operational burdens for our team members by removing the undifferentiated heavy lifting so they can regain time to spend with patients, helping to bring joy back to medicine;
Care Anywhere: meeting people whenever and wherever they need to access care, regardless of the channel. We aim to extend the reach of our care teams outside of the traditional four walls of a hospital to deliver high quality, convenient care to our patients in the setting of their choosing;
Inclusive Health: supporting populations with specific needs, such as women's health, specialty care, and behavioral health; and
Consumerism: empowering our patients by delivering the right information at the right time, in a dynamic manner, that individuals can understand, to enable them to make more informed healthcare decisions (financial transparency, care navigation, patient empowerment, etc.) for themselves or for a loved one.
Q. Do you incorporate patients/consumers in the planning process?
JB: By getting input from our employees and care settings on where technology and innovation is needed, we are directly incorporating our most important stakeholders into our decision making – both the patients and the staff who are caring for them.
Q. What are the biggest challenges to innovation in the healthcare space? What has surprised you the most about innovation in healthcare?
JB: I come from a more tech-focused background, and a challenge I've seen is that the technology and healthcare worlds speak entirely different languages. A big part of my job has been acting as 'chief translation officer,' bridging the gap between tech and healthcare and helping to decipher what challenges our healthcare system is experiencing and which technology capabilities exist that can help address those in a meaningful way. 
This language issue is exacerbated by the fact that healthcare is incredibly complex. The industry is often criticized for being slow to adopt technology, but this caution is called for, and vital in some cases, because of the tremendous complexity that exists and the fact that human lives are always what is on the line. We don't make widgets; we are caring for people during their times of greatest need, and we take this responsibility very seriously.
Q. What would you like to change about the typical health system to make it more innovative or accepting of new ideas?
JB: The challenges of the COVID-19 pandemic have created opportunities – an openness to new ideas, changes in regulation, an acceptance of technology, and a renewed drive to make our health system better. Change, though, which is what innovation is, requires buy-in and understanding. It takes time and focus. It can't be a part-time job, and it can't happen in a vacuum. A commitment to innovation has to be part of an organization's strategy and supported by and encouraged at all levels of leadership.
But those driving innovation can't be in an ivory tower either. They have to listen to and collaborate with the people in the field caring for the patients, and they have to strive to ensure that any new solution they bring to the table addresses a real-time challenge.
Q. What new technologies or strategies are on the horizon? What are you looking forward to trying out?
JB: I am excited about continuing to work toward extending our care teams' reach outside of the traditional in-patient hospital setting. The COVID-19 pandemic spurred innovation and interest in receiving care through non-traditional channels, and I'm looking forward to seeing how those remote technologies continue to be used and adapted.
Eric Wicklund is the Technology Editor for HealthLeaders.
https://www.healthleadersmedia.com/innovation/qa-lifepoint-healths-jessica-beegle-talks-about-innovation-strategy