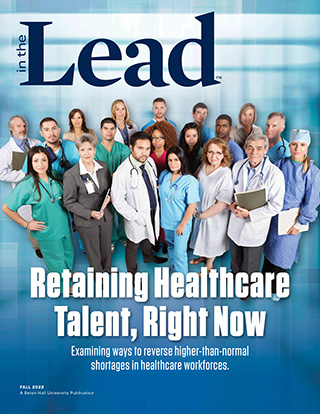 The Stillman School of Business and its Business Leadership Center have released the Fall 2022 issue of In the Lead magazine, which focuses on leadership perspectives from the field of health care, with content that is curated from leaders across the industry who share lessons learned from real-world experiences.
Contributors in this issue include a CEO and Board Member of multiple biopharmaceutical companies, the chief talent officer at a global pharmaceutical company, and an AVP at a top-ranked hospital in New York City. They are joined by accomplished faculty from the School of Business plus a recent graduate who is excelling in his accounting career. Readers will benefit from perspectives on leadership arising from current and emerging topics such as establishing successors, shortages in the workforce, and of course, the hallmark of Seton Hall's Buccino Leadership Institute – leadership development. 
This issue also presents the results and analysis from the second Future of Leadership Survey. Magazine editor and Management Instructor Ruchin Kansal, M.B.A. and Professor and Dean Emeritus Karen Boroff, Ph.D. served as the research team on the survey. They indicated that 
"the findings of the 2022 survey are consistent with the inaugural survey in 2021 with respect to physical traits, values, competencies, and challenges faced by a leader. Respondents, who were 18- to 25-year-olds, continue to view leadership as an important topic and agree that remote work has impacted leadership development. They are looking for ethical and adaptive leaders who can inspire and lead organizations through change as the business environment becomes even more volatile and uncertain."
Kansal added, "The survey has already contributed to the national discussion on Creating a Respectful and Open World for Natural Hair (CROWN) Act, and the impact of remote work on leadership development."
In this issue:
Developing Agile Leadership Skills in Future Health Professionals
Current leadership styles may be mismatched in today's healthscape.
By Anne M. Hewitt
The Future of Leadership Survey 2022
Insight and foresight from the survey's second-year findings.
By Ruchin Kansal, Karen Boroff, Steven Lorenzet and Alexander McAuley
In the Lead with Shalini Sharad Madan
A conversation with a healthcare industry leader on key trends and leadership challenges.
Leadership Lessons
Six ways a leader can learn the skills necessary to become more agile and promote a learning environment.
By Paul Fonteyne
Perspective
Examining ways to reverse higher-than-normal shortages in healthcare workforces.
By Ritu Gupta Jain
In Focus
Andrew Aguilera '18 says that among the many leadership qualities needed for success, problem-solving remains a critical skill.
In the Crucible
Suggestions that could help leaders identify ways to strengthen the succession management process.
By Stephen Dwight
Case Study
The COVID-19 pandemic exposed the healthcare industry's need to reshape the way it cultivates its future leaders.
By Bryan Price and Steven Lorenzet
Book Review
Redefining Innovation examines the evolution of the biopharmaceutical industry and highlights the possible signs of the industry's decline.
Reviewed by Paula Alexander and Stephen Woo
Click here to read the Fall 2022 issue of In the Lead magazine, and feel free to share this content with others. We welcome your feedback.
https://www.shu.edu/leadership/news/new-issue-of-in-the-lead-magazine-focuses-on-healthcare-leadership.cfm