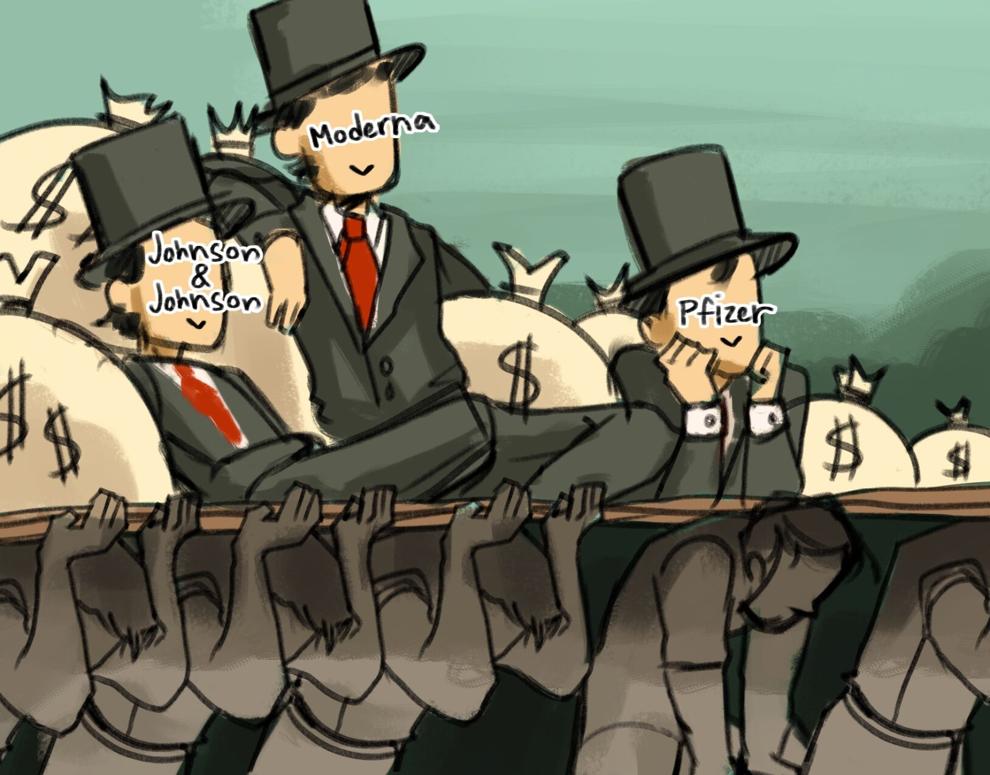 Millions of lives were at stake when the COVID-19 pandemic loomed over the United States with no mass vaccine distribution. Despite big pharmaceutical companies swooping in to the rescue, they are not heroes but pandemic profiteers.
American vaccine manufacturers like Pfizer, Moderna and Johnson & Johnson have seen record profits after developing the breakthrough mRNA vaccine that has eased the COVID-19 pandemic. However, alleviating this global health crisis entirely does not seem profitable for the pharmaceutical industry.
It is also important to remember that the government funded the creation of the vaccine. Moderna received $2.5 billion in federal aid, while Johnson & Johnson received over one billion. 
Last year, big pharma collectively saw billions of dollars in revenue over a vaccine that has essentially become mandatory with the help of governments around the world.
Now is the time for the same governments to wrangle and regulate these companies that have become money-hungry during a global economic crisis, as their business practices have become questionable and not in the best interest of the American people. 
Big pharmaceutical industries need to rethink their underlying principles when pursuing bountiful profit over public health. Continuing to chase after money would solely create greater public distrust.
In March, Pfizer CEO Albert Bourla said on CBS' "Face the Nation" that a fourth dose of the COVID-19 vaccine was necessary and that the current vaccine does not provide immunity for long term. Bourla also said that the COVID-19 vaccine would likely be a yearly injection similar to the flu vaccine. 
His projections come after Pfizer made $37 billion in 2021. Overall, the entire drug industry made over $81 billion in profits and is expected to receive even more in revenue in 2022.
In this strategic manner, it is easy for big pharmaceutical industries to argue that no vaccine booster is sufficient. Immunity to COVID-19 is solely achievable through Americans funneling their cash. However, this seemingly unethical business practice cannot be overlooked. 
Their enormous profits were made possible by the monopoly that Pfizer and big pharma hold on the vaccine recipe, making them the sole supplier to the world. This has allowed manufacturers like Pfizer to price gouge the cost of the vaccine in more developed nations that can afford to pay a premium per dose. 
In response to Global Justice Now, a Pfizer spokesperson said that the company is committed to "equitable and affordable access" to the vaccine. After all, Pfizer and Moderna have charged $3 to $10 per dose throughout African countries. In the United States and Europe, the same vaccine goes for roughly $24. 
This may seem like an equitable decision made by the manufacturer, but it is evident that Pfizer is purposefully withholding the vaccine recipe for personal gain. Sharing it would allow for a less expensive option for these low-income countries. 
Bourla said that sharing the recipe for the vaccine would be dangerous because lower income countries would not be able to efficiently create the vaccine on their own. However, India, which is considered a low-income country, was able to create a vaccine that the WHO later approved. 
As of now only 2% of people living in low-income countries are fully vaccinated, according to Oxfam. 
After two years adapting to the COVID-19 pandemic, the vaccine does not provide full immunity, it helps slow the transmission of the disease but it does not guarantee you will not get sick if vaccinated. 
Despite big pharma's lack of promising vaccine equality, the general public can protect themselves from future COVID outbreaks in proactive ways. 
For one, we need to emphasize a shift in public health by promoting preventative care over curative care. Exercising, nutritional eating, mental health management and personal hygiene can give anyone the upper hand when treating a COVID-19 diagnosis. 
It is also imperative that corporations and workplaces take responsibility for ensuring COVID-19 pay benefits for employees that have to quarantine. Taking time off work without sick pay can put someone who lives paycheck to paycheck in financial jeopardy. 
Precautions can be taken to prevent outbreaks in work settings by companies providing the proper personal protective equipment during seasons when COVID-19 may surge. It is also essential for employees to follow the correct health safety measures to avoid spreading the virus.
Lastly, companies like Moderna and Johnson & Johnson should return the federal funding they received. There is no reason why they should not be able to pay it back.  
People should not forget that, although this virus is still a threat and that the vaccine has helped the world tremendously, we should not be at the hand of big pharma. They are an entity that should be in the public's best interest, not taking advantage of it.
https://dailytitan.com/opinion/big-pharma-profiting-off-of-the-pandemic-neglects-public-health/article_24d645f0-bf8a-11ec-a7e0-376cfdd038b4.html